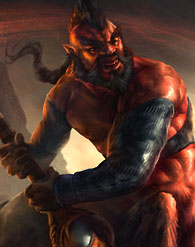 The Centaur Warden
The Centaur Warden uses his impressive might to protect his herd from dangers while on the hunt. His double-ended cudgel ensures unwanted guests are kept out of the steppes.
For the article on Bataar's Default Skin, see: Default Bataar Skin.
Section heading
Write the first section of your page here.
Abilities
Battle Focus

Passive: Bataar gains a stacking bonus to Armor and Magic Resistance whenever he deals damage with abilities or basic attacks.

Armor: 2 -> 3 -> 4 -> 5 -> 6

Magic Resistance: 2 -> 3 -> 4 -> 5 -> 6

Max Stacks: 6 -> 6 -> 6 -> 6 -> 6

Duration 5 -> 5 -> 5 -> 5 -> 5

(Rank 2 at level 4, Rank 3 at level 7, Rank 4 at level 10, Rank 5 at level 13)

Rallying Charge

Bataar gains Movement Speed and Attack Power for a short duration, granting a smaller amount of Attack Power to allied heroes nearby.

Movement Speed: + 18% -> 21% -> 24% -> 27%

Attack Power: 12 -> 20 -> 28 -> 36

Friendly Attack Power: 6 -> 10 -> 14 -> 18

Duration: 6

Mana: 45

Cooldown: 12.0

HotKey: Q

Dazing Blow

Bataar's next basic attack deals extra damage and applies a stacking penalty to his target's Movement and Attack Speeds. Using Dazing Blow also resets Bataar's attack cooldown.

Attack Damage: + 25* -> 60* -> 95* -> 130*

Active Duration: 6

Enemy Attack Speed: -20% -> -25% -> -30% -> -35%

Max Stacks: 3

Enemy Duration: 6

Mana: 35

Cooldown: 4.0

HotKey: W

Note: *Dazing Blow scales at + 0.2 per total Attack Power.

Base Attack Power gain (no items/stats/gear)

Level 1: + 11

Level 2: + 12

Level 3: + 12

Level 4: + 13

Level 5: + 14

Level 6: + 14

Level 7: + 15

Level 8: + 16

Level 9: + 17

Level 10: + 17

Level 11: + 18

Level 12: + 19

Level 13: + 19

Level 14: + 20

Level 15: + 21

Crushing Tackle

Bataar dashes toward the targeted enemy, dealing Physical Damage and carrying it a fix distance. If the enemy is carried into a wall, they take additional Physical Damage and are stunned.

Range: 4.3

Damage: 65 -> 115 -> 165 -> 215 (+ 30% of Attack Power from Items)

Damage (wall): 65 -> 115 -> 165 -> 215 (+ 30% of Attack Power from Items)

Mana: 85

Cooldown: 13.0 -> 12.0 -> 11.0 -> 10.0

HotKey: E

Note: Using Crushing Tackle against an opponent into a wall essentially doubles its damage (65x2, 115x2, etc.)

Staff Slam

Bataar smashes the target enemy with his staff, dealing Physical Damage. All other enemies within a radius will take Physical Damage and be knocked back.

Physical Damage: 225 -> 350 -> 475 (+ 70% of Attack Power from Items)

Radius: 2.50 -> 2.75

Physical Area Damage: 225 -> 350 -> 475 (+ 70% of Attack Power from Items)

Mana: 100

Cooldown: 120 -> 100 -> 80

HotKey: R
Stats:
Bataar's Base Stats 1-15
1
2
3
4
5
6
7
8
9
10
11
12
13
14
15
Health
608 (1.3/s)
707 (1.4/s)
806 (1.5/s)
905 (1.6/s)
1004 (1.7/s)
1103 (1.7/s)
1202 (1.8/s)
1301 (1.9/s)
1400 (2.0/s)
1499 (2.1/s)
1598 (2.2/s)
1697 (2.3/s)
1796 (2.4/s)
1895 (2.5/s)
1994 (2.6/s)
Armor
23
26
29
33
36
40
43
46
50
53
57
60
63
67
70
Magic Resistance
33
34
36
37
39
40
42
43
45
46
48
49
51
52
54
Resilience
0%
0%
0%
0%
0%
0%
0%
0%
0%
0%
0%
0%
0%
0%
0%
Movement Speed
3.08
3.08
3.08
3.08
3.08
3.08
3.08
3.08
3.08
3.08
3.08
3.08
3.08
3.08
3.08
Attack Power
55
59
62
66
69
72
76
79
83
86
89
93
96
100
103
Attack Speed
0.65
0.67
0.69
0.72
0.74
0.76
0.78
0.81
0.83
0.85
0.87
0.90
0.92
0.94
0.96
Critical Strike

0.0%

(80%)

0.0%

(80%)

0.0%

(80%)

0.0%

(80%)

0.0%

(80%)

0.0%

(80%)

0.0%

(80%)

0.0%

(80%)

0.0%

(80%)

0.0%

(80%)

0.0%

(80%)

0.0%

(80%)

0.0%

(80%)

0.0%

(80%)

0.0%

(80%)

Armor Penetration

0%

(0)

0%

(0)

0%

(0)

0%

(0)

0%

(0)

0%

(0)

0%

(0)

0%

(0)

0%

(0)

0%

(0)

0%

(0)

0%

(0)

0%

(0)

0%

(0)

0%

(0)

Life Steal

0%

(0)

0%

(0)

0%

(0)

0%

(0)

0%

(0)

0%

(0)

0%

(0)

0%

(0)

0%

(0)

0%

(0)

0%

(0)

0%

(0)

0%

(0)

0%

(0)

0%

(0)

Attack Range
1.3
1.3
1.3
1.3
1.3
1.3
1.3
1.3
1.3
1.3
1.3
1.3
1.3
1.3
1.3
Mana
280 (1.4/s)
325 (1.4/s)
370 (1.5/s)
415 (1.6/s)
460 (1.7/s)
505 (1.7/s)
550 (1.8/s)
595 (1.9/s)
640 (1.9/s)
685 (2.0/s)
730 (2.1/s)
775 (2.1/s)
820 (2.2/s)
865 (2.3/s)
910 (2.4/s)
Special Power
0
0
0
0
0
0
0
0
0
0
0
0
0
0
0
Cooldown Reduction
0.0%
0.0%
0.0%
0.0%
0.0%
0.0%
0.0%
0.0%
0.0%
0.0%
0.0%
0.0%
0.0%
0.0%
0.0%
Magic Penetration
0% (0)
0% (0)
0% (0)
0% (0)
0% (0)
0% (0)
0% (0)
0% (0)
0% (0)
0% (0)
0% (0)
0% (0)
0% (0)
0% (0)
0% (0)
Spell Vamp
0%
0%
0%
0%
0%
0%
0%
0%
0%
0%
0%
0%
0%
0%
0%
Note: Bataar's Passive means that his Armor and Magic Resistance should be higher than the base stats written here as long as he is active in combat (+ 36 each at max stacks.)
Skins:
Click on a Skin to see further information about it (such as in-game animation information and screenshots.)