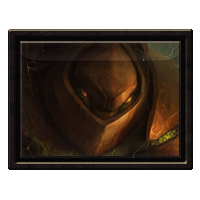 The Mandrake
A hulking creature bearing a plated hide of bark. Large prehensile vines help it intelligently hunt its prey.
Beroth is a lumbering creature animated by the forest's will. Able to appear anywhere there is trouble, assembling a body from trees and roots on hand, it will not stop until the forest is safe from humanity.
Gameplay:Edit
Beroth can be played as a jungler, support or in a solo lane. As a jungler, his W will help clear the creeps with relative ease, and his passive will give him extra survivability. Clearing the wisp camp, however, can be a bit tricky for lower level players, as the wisp queen has a silence ability that can deactivate beroth's flailing vines.
His low mana pool means that he will be very reliant either on mana pots or on the blue buff to keep him from having to back to the fountain.
As a laner, Beroth's passive will let him absorb some damage with little to no repercussion. If played correctly, he will have excellent sustain, and will be hard to push out of his lane. His kit and low mana pool means he cannot be played very aggressively in a solo lane. As a support, however, his pull and natural tankiness will be a strong threat to the enemy laners.
Abilities:Edit
Renewing CarapaceEdit

Passive: Beroth's shell acts as a shield that can absorb an amount of damage equal to a percentage of its maximum Health. If the shield is depleted, it will renew itself after a short delay so long as no further damage is taken.

Damage Shield: 10%

Passive Cooldown: 10

Vine GrabEdit

Beroth shoots a grasping vine in the targeted direction. The first enemy struck takes Magic Damage and is pulled towards Beroth.

Magic Damage: 70 -> 130 -> 190 -> 250 (+ 80% of your Special Power from Items and Buffs)

Mana: 110

Cooldown: 18.0 -> 17.0 -> 16.0 -> 15.0

HotKey: Q

Flailing VinesEdit

Beroth continuously thrashes its vines, dealing Magic Damage to all nearby enemies. Casting the ability again cancels the effect.

Magic Damage/sec: 18 -> 34 -> 50 -> 66 (+ 20% of your Special Power from Items and Buffs)

Mana drain/sec: 10 -> 11 -> 12 -> 13

Radius: 1.6

Mana: 10 -> 11 -> 12 -> 13

Cooldown: 4.0

HotKey: W

Power CrushEdit

Beroth's next basic attack deals bonus Magic Damage and stuns the target, and deals Magic Damage to enemies in a radius around it. Using power Crush also resets Beroth's attack cooldown.

Magic Damage: 60 -> 85 -> 110 -> 135 (+ 40% of your Special Power from Items and Buffs)

Magic Damage: 1.7

Splash Damage: 30 -> 43 -> 55 -> 68 (+ 20% of your Special Power from Items and Buffs)

Duration: 1.0

Mana: 45

Cooldown: 16.0 -> 15.0 -> 14.0 -> 13.0

HotKey: E

Sap FloodEdit

Beroth fills the area around it with a thick sap that greatly Slows enemies. While Beroth is within the sap, it is healed over time.

Total Heal: 40.0% -> 50.0% -> 60.0% (+ 8.0% of your Special Power from Items and Buffs)

Slow: + 40%

Duration: 8

Radius: 3.5

Mana: 150 -> 200 -> 250

Cooldown: 140.0 -> 120.0 -> 100.0

HotKey: R
Beroth's Base Stats 1-15
1
2
3
4
5
6
7
8
9
10
11
12
13
14
15
Health
(Regen)
622** (1.5/s)
724** (1.6/s)
826** (1.7/s)
928** (1.8/s)
1030** (2.0/s)
1132** (2.1/s)
1234** (2.2/s)
1336** (2.3/s)
1438** (2.4/s)
1540** (2.5/s)
1642** (2.6/s)
1744** (2.7/s)
1846** (2.8/s)
1948** (2.9/s)
2050** (3.1/s)
Armor
27
32
37
41
46
51
56
61
66
71
75
80
85
90
95
Magic Resistance
30*
30*
30*
30*
30*
30*
30*
30*
30*
30*
30*
30*
30*
30*
30*
Resilience
0%*
0%*
0%*
0%*
0%*
0%*
0%*
0%*
0%*
0%*
0%*
0%*
0%*
0%*
0%*
Movement Speed
2.95*
2.95*
2.95*
2.95*
2.95*
2.95*
2.95*
2.95*
2.95*
2.95*
2.95*
2.95*
2.95*
2.95*
2.95*
Attack Power
52
56
59
62
66
69
72
75
79
82
85
89
92
95
99
Attack Speed
0.62
0.64
0.66
0.67
0.69
0.70
0.72
0.73
0.75
0.76
0.78
0.79
0.81
0.82
0.84
Critical Strike

0.0%* (80%)*

0.0%* (80%)*
0.0%* (80%)*
0.0%* (80%)*
0.0%* (80%)*
0.0%* (80%)*
0.0%* (80%)*
0.0%* (80%)*
0.0%* (80%)*
0.0%* (80%)*
0.0%* (80%)*
0.0%* (80%)*
0.0%* (80%)*
0.0%* (80%)*
0.0%* (80%)*
Armor Penetration

0%* (0)*

0%* (0)*
0%* (0)*
0%* (0)*
0%* (0)*
0%* (0)*
0%* (0)*
0%* (0)*
0%* (0)*
0%* (0)*
0%* (0)*
0%* (0)*
0%* (0)*
0%* (0)*
0%* (0)*
Life Steal

0%* (0)*

0%* (0)*
0%* (0)*
0%* (0)*
0%* (0)*
0%* (0)*
0%* (0)*
0%* (0)*
0%* (0)*
0%* (0)*
0%* (0)*
0%* (0)*
0%* (0)*
0%* (0)*
0%* (0)*
Attack Range
1.3*
1.3*
1.3*
1.3*
1.3*
1.3*
1.3*
1.3*
1.3*
1.3*
1.3*
1.3*
1.3*
1.3*
1.3*
Mana (Regen)
275 (1.3/s)
320 (1.3/s)
365 (1.4/s)
410 (1.5/s)
455 (1.6/s)
500 (1.6/s)
545 (1.7/s)
590 (1.8/s)
635 (1.8/s)
680 (1.9/s)
725 (2.0/s)
770 (2.0/s)
815 (2.1/s)
860 (2.2/s)
905 (2.3/s)
Special Power
0*
0*
0*
0*
0*
0*
0*
0*
0*
0*
0*
0*
0*
0*
0*
Cooldown Reduction
0.0%*
0.0%*
0.0%*
0.0%*
0.0%*
0.0%*
0.0%*
0.0%*
0.0%*
0.0%*
0.0%*
0.0%*
0.0%*
0.0%*
0.0%*
Magic Penetration
0%* (0)*
0%* (0)*
0%* (0)*
0%* (0)*
0%* (0)*
0%* (0)*
0%* (0)*
0%* (0)*
0%* (0)*
0%* (0)*
0%* (0)*
0%* (0)*
0%* (0)*
0%* (0)*
0%* (0)*
Spell Vamp
0%*
0%*
0%*
0%*
0%*
0%*
0%*
0%*
0%*
0%*
0%*
0%*
0%*
0%*
0%*
* denotes a static value that does not scale with level and is only affected by items, buffs, or abilities
** determines strength of Renewing Carapace passive

Click on a Skin to see further information about it (such as in-game animation information and screenshots.)