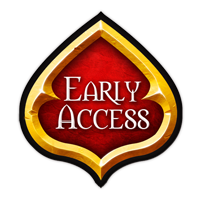 Announcement:
These bundles are now retired and no longer for sale on the Steam store!
Rarity:
Description:
Players who purchase Sins of a Dark Age Early Access will receive an Early Access Bundle in their Steam inventory.
How to Open:
To open the bundle, boot up Soada and go to Profile->Inventory. Select the Early Access Bundle and press Unpack.
Upon opening this bundle, you will be given an

Early Access Chest and an

Early Access Chest Key.
Opening the

Early Access Chest will yield one of three bundles:

Berserk Bundle

Merciless Bundle

Resolute Bundle
Community content is available under
CC-BY-SA
unless otherwise noted.