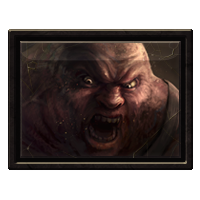 The First Born
A hulking, four armed mutant who can stun and hurl his enemies with a single blow of his fists.
Lore:
A hulking mutant created to be the perfect soldier, Grugg rebelled against his masters and escaped their chains. Now in the Sunken Forest he fights with a deadly temper, unable to escape his original purpose.
Abilities:
Massive

Increases Grugg's maximum Health by a percentage and grants him bonus Attack Power proportional to his maximum Health.

Ham Fisted

Passive:

Every few basic attacks will deal Magic Damage and briefly stun Grugg's target.

Active:

Grugg smacks a single enemy, dealing Magic Damage and knocking the target back.

Pummel

Grugg rapidly strikes nearby enemies for Magic Damage over a short duration. Moving or casting another ability will cancel attack.

Guarded Stance

Grugg guards his body with his massive limbs, reducing damage taken from all sources and dealing Magic Damage to enemies who target him with basic attacks.

Ground Pound

Grugg slams the ground, dealing Magic Damage to nearby foes and stunning them.
* denotes a static value that does not scale with level and is only affected by items, buffs, or abilities

Note:
Grugg's description prior to 36403 was A hulking four armed mutant with immense strength. His motivation in battle is partly a means of venting frustration and partly his unrealistic expectation that his accomplishments will be rewarded with normalcy.
Click on a Skin to see further information about it (such as in-game animation information and screenshots.)