(10 intermediate revisions by one other user not shown)
Line 1:
Line 1:
−

Occasionally some files can become corrupt with strange results.  One temporary solution can be to backup and delete the Setting folder.  The backup is helpful in case this fix works, so that the state of the corrupt Setting folder can be examined to fix the bug.

+

Occasionally some files can become corrupt with strange results.  One temporary solution can be to backup and the Setting folder.  The backup is helpful in case this fix works, so that the state of the corrupt Setting folder can be examined to fix the bug.

 
 
 

Use the following steps to navigate to the Setting folder and complete the task.

 

Use the following steps to navigate to the Setting folder and complete the task.

Line 24:
Line 24:
 

Make a backup and remove the folder from this location.

 

Make a backup and remove the folder from this location.

 
 
−

Right click on the Setting folder and select CUT.  Navigate to your preferred backup location, right click within the backup folder and select''' '''PASTE.The next time the game is launched, it will generate a new Setting folder.

+

Right click on the Setting folder and select CUT.  Navigate to your preferred backup location, right click within the backup folder and select''' '''PASTE.The next time the game is launched, it will generate a new Setting folder.

 
 
−

'''If the problem is fixed after, both the backup and the copy that fixed it are needed to diagnose and fix the problem. While in Diagnostics, right click the new Setting folder that fixed the issue and select COPY. Then right click your desktop and select PASTE.

+

'''If the problem is fixed after, both the backup and the copy that fixed it are needed to diagnose the problem. While in , right click the new Setting folder that fixed the issue and select COPY. Then right click your desktop and select PASTE.

−
 
−

It is very important that both of these folders are received by Ironclad.  Please ZIP the backup and the fixed folders and send to support@ironcladgames.com with a description of the problem that was fixed!'''

 
 

[[Category:Support]]

 

[[Category:Support]]
---
Latest revision as of 21:41, 21 September 2014
Occasionally some files can become corrupt with strange results.  One temporary solution can be to backup and replace the Setting folder.  The backup is helpful in case this fix works, so that the state of the corrupt Setting folder can be examined to fix the bug.
Use the following steps to navigate to the Setting folder and complete the task.
---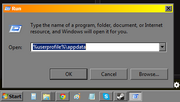 Close the game.
Press Windows Key + R
In the entry box type %userprofile%\appdata and press enter, or click OK
---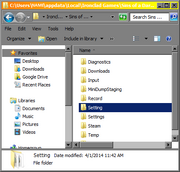 In the new window navigate to C:\...\appdata\Local\Ironclad Games\Sins of a Dark Age\
VERY IMPORTANT STEP:
Make a backup and remove the folder from this location.
Right click on the Setting folder and select CUT.  Navigate to your preferred backup location, right click within the backup folder and select PASTE. Select the Setting folder you just modified and rename it "Old Setting Folder." The next time the game is launched, it will generate a new Setting folder.
If the problem is fixed after, both the backup and the copy that fixed it are needed to diagnose the problem. While in the \AppData\Local\Ironclad Games\Sins of a Dark Age folder, right click the new Setting folder that fixed the issue and select COPY. Then right click your desktop (or preferred backup location) and select PASTE. It is very important that both of these folders are received by Ironclad.  Please ZIP the backup ("Old Setting Folder) and a copy of the new Setting folder and send to support@ironcladgames.com with a description of the problem that was fixed!
Community content is available under
CC-BY-SA
unless otherwise noted.