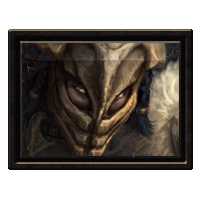 The Savage Huntress
An experienced hunter who uses her javelins and traps to great effect to keep her prey within killing distance.
Lore:
Skalla is a skilled huntress, driven to vengeance by the destruction of her home. Stalking her prey through the forest, only stopping to howl at the moon, few can survive her jagged spears or escape her deadly traps.
Abilities:
Blood Hunter

Skalla's abilities apply Bleeding to her targets, causing Physical Damage over time. Additionally, she gains Movement Speed when moving towards an enemy hero with Bleeding, as long as they remain visible.

Serrated Spear

Skalla throws a spear, dealing Physical Damage and applying Bleeding to the first enemy hit.

Crippling Trap

Skalla places a spiked trap at the target location. When triggered, the trap deals Physical Damage and applies Slow and Bleeding to all enemies in the radius. Crippling Traps can only be triggered by heroes or their pets.

Predatory Instincts

Passive:

Every few basic attacks Skalla applies the Bleeding effect to her target.

Active:

Skalla gains persistent vision of and deals bonus Physical Damage to targets who have Bleeding (they cannot stealth). This bonus damage only applies to basic attacks.

Harpoon

Primary:

Skalla throws a harpoon in the targeted direction, dealing Physical Damage to the first enemy hero hit. He is additionally slowed and gains Bleeding.

Secondary:

Activating the ability a second time pulls the struck hero a short distance towards Skalla.
Skalla's Base Stats 1-15
1
2
3
4
5
6
7
8
9
10
11
12
13
14
15

Health




(Regen)

528 (1.2/s)
618 (1.3/s)
708 (1.4/s)
798 (1.5/s)
888 (1.6/s)
978 (1.6/s)
1068 (1.7/s)
1158 (1.8/s)
1248 (1.9/s)
1338 (2.0/s)
1428 (2.1/s)
1518 (2.2/s)
1608 (2.3/s
1698 (2.4/s)
1788 (2.5/s)

Armor

21
24
27
31
34
38
41
44
48
51
55
58
61
65
68

Magic Resistance

30
30
30
30
30
30
30
30
30
30
30
30
30
30
30

Resilience

0%*
0%*
0%*
0%*
0%*
0%*
0%*
0%*
0%*
0%*
0%*
0%*
0%*
0%*
0%*

Movement Speed

2.90
2.90
2.90
2.90
2.90
2.90
2.90
2.90
2.90
2.90
2.90
2.90
2.90
2.90
2.90

Attack Power

52
56
59
62
65
69
72
75
78
82
85
88
91
95
98

Attack Speed

0.69
0.72
0.74
0.77
0.80
0.83
0.86
0.89
0.91
0.94
0.97
1.00
1.03
1.05
1.08

Critical Strike

0.0%* (80%)*

0.0%* (80%)*
0.0%* (80%)*
0.0%* (80%)*
0.0%* (80%)*
0.0%* (80%)*
0.0%* (80%)*
0.0%* (80%)*
0.0%* (80%)*
0.0%* (80%)*
0.0%* (80%)*
0.0%* (80%)*
0.0%* (80%)*
0.0%* (80%)*
0.0%* (80%)*

Armor Penetration

0%* (0)*

0%* (0)*
0%* (0)*
0%* (0)*
0%* (0)*
0%* (0)*
0%* (0)*
0%* (0)*
0%* (0)*
0%* (0)*
0%* (0)*
0%* (0)*
0%* (0)*
0%* (0)*
0%* (0)*

Life Steal

0%* (0)*

0%* (0)*
0%* (0)*
0%* (0)*
0%* (0)*
0%* (0)*
0%* (0)*
0%* (0)*
0%* (0)*
0%* (0)*
0%* (0)*
0%* (0)*
0%* (0)*
0%* (0)*
0%* (0)*

Attack Range

5.6
5.6
5.6
5.6
5.6
5.6
5.6
5.6
5.6
5.6
5.6
5.6
5.6
5.6
5.6

Mana

(Regen)

310 (1.7/s)
365 (1.8/s)
420 (2.0/s)
475 (2.1/s)
530 (2.2/s)
585 (2.3/s)
640 (2.4/s)
695 (2.6/s)
750 (2.7/s)
805 (2.8/s)
860 (2.9/s)
915 (3.0/s)
970 (3.2/s)
1025 (3.3/s)
1080 (3.4/s)

Special Power

0*
0*
0*
0*
0*
0*
0*
0*
0*
0*
0*
0*
0*
0*
0*

Cooldown Reduction

0.0%*
0.0%*
0.0%*
0.0%*
0.0%*
0.0%*
0.0%*
0.0%*
0.0%*
0.0%*
0.0%*
0.0%*
0.0%*
0.0%*
0.0%*

Magic Penetration

0%* (0)*
0%* (0)*
0%* (0)*
0%* (0)*
0%* (0)*
0%* (0)*
0%* (0)*
0%* (0)*
0%* (0)*
0%* (0)*
0%* (0)*
0%* (0)*
0%* (0)*
0%* (0)*
0%* (0)*

Spell Vamp

0%*
0%*
0%*
0%*
0%*
0%*
0%*
0%*
0%*
0%*
0%*
0%*
0%*
0%*
0%*
* denotes a static value that does not scale with level and is only affected by items, buffs, or abilities

Click on a Skin to see further information about it (such as in-game animation information and screenshots.)