Sins of a Dark Age is now part of the Steam Summer Sale. Both the single Early Access and Four-Pack are on sale for 50% off.
More importantly, as part of this sale we've introduced the "Solarus Collection" which includes exclusive limited run rewards you can only craft through Steam during this sale. They will never be available again. Details on how to get them are available here: http://store.steampowered.com/promotion/summer2014faq/
Solarus Serewyn
Rarity: Timeless Skin
Lore: As plants absorb the sun's light, Serewyn has absorbed the essence of the sun's fallen god.
Steam Rarity: Extraordinary
Solarus Hero Gear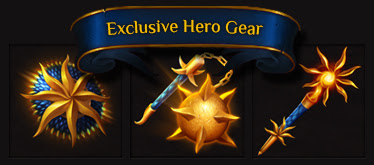 Flail of Solarus
Rarity: Timeless Gear
Description: Grants 0.33 Attack Power per level. Also grants 3 Life Steal during the Day. Lore: A radiant flail that can absorb light, and with it life. Steam Rarity: Rare
Staff of Solarus
Rarity: Timeless Gear
Description: Grants 0.67 Special Power per level. Also grants 0.4 Mana Regeneration during the Day. Lore: A staff that blazes like a tiny sun, transforming light into power. Steam Rarity: Uncommon
Shield of Solarus
Rarity: Timeless Gear
Description: Grants 6 Health per level. Also grants 0.6 Health Regeneration during the Day. Lore: The will of a god cannot be broken; and neither can this holy shield. Steam Rarity: Common