Ok, so you're looking to start streaming Sins of a Dark Age. Well I'm going to walk you through the stages and prepare you to show off those skills you own. Below are some tools you will need to download or already have installed. If you already have these tools, please be sure you have the latest and working updates to ensure quality.
Make sure you have the following already installed on your PC, if you need to auto update from the Computer Control Panel, please do so.
Next, you will need the streaming software that will start broadcasting and make you star!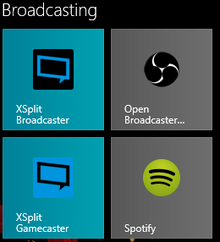 *
OBS(Open Broadcaster Software)
These are the three I recommend for great quality and low resource usage, depending on your PC Specs. You need to make sure you have the minimum PC Specs as well. You will know if you start studdering while broadcasting.
Grab a pen and paper or bust open your notepad and jot down some small info about your ISP, because you will need this to input also and head to Timewarner Speed Test or Speed Test (recommended) . What you will need to copy is the Upload (kbps). In order for this to work, be sure its at least 1 mbps which the number you need is 1000 kbps  Just remember that for every 1 mega byte per second, its 1000 kbps. So if you have 2 mbps, then your upload speed is around 2 kbps.
Ok now, open up your 
OBS(Open Broadcaster Software)
 or whichever you choose to use (I prefer OBS because, well, it's the best in open source).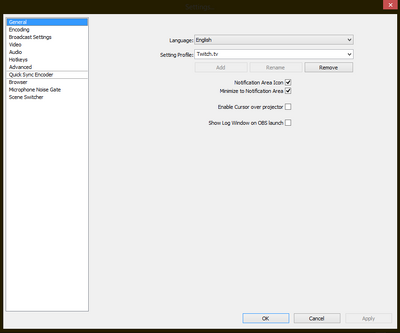 As you can see, in the General area, you would select your language. Now under the Setting profile, add a name, like Twitch.tv or Hitbox.tv Whichever your planning to stream on. That being said, be sure you have an active account on either one of those sites as well. Or both if you're planning to stream to both at once; however you will need a powerful PC and ISP to do so. For now, let's stick to the bare minimum. So just copy what I have for you.
Next, you will need to click on the Encoding tab and have both CBR and CBR Padding enabled. For the max bitrate, that's your upload speed. As you can see, mine is set to 700, because I have a low upload speed right at 0.80ish. Again, this is just for the example. You do not need to mess with the Audio Encoding at all. Just leave that as default.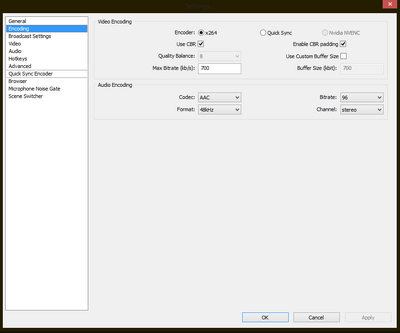 Once you have those taken care of, click on the Broadcast Settings. You'll notice under mode, you have 2 settings to choose from. If you plan to just record and save your video as an output to use for Youtube or other websites that host videos, choose that. However, that's for a later tutorial. For now, go ahead and select Live Stream. 
Make sure to copy the settings I have listed as well in the picture below:
Mode: Live Stream
Streaming Service: Twitch.tv or Hitbox.tv
FMS URL: (please choose the closest to your state or country as possible
Examples:
Video
area and be sure to copy the settings I have, if you by any chance have a faster ISP(upload speed) or PC, then you too can do the same or alternate the settings with the max. Most rules would apply just to get started.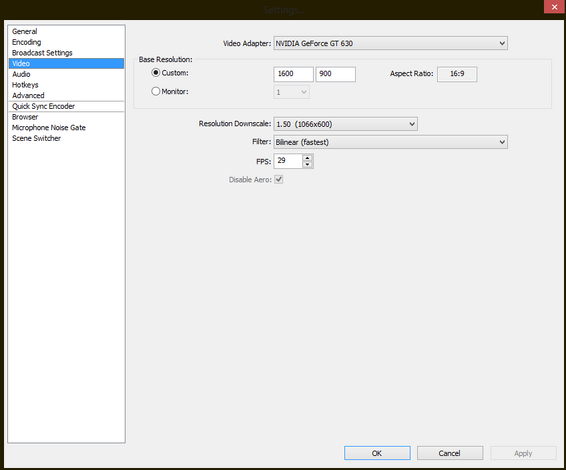 Last, you can now head on over to the Advanced Tab. There aren't a lot of things to change or do here, so I would just copy the image here.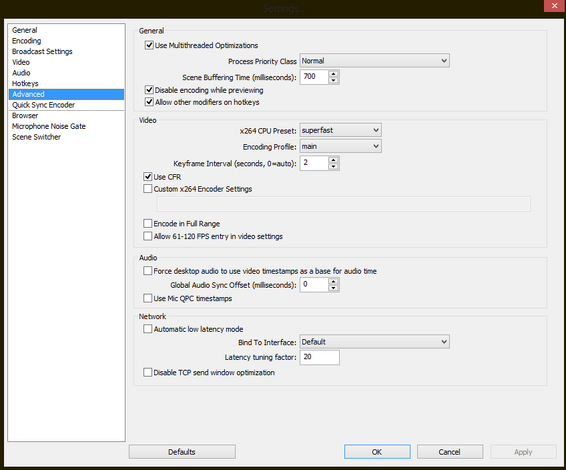 Once you are done, you are ready to stream. Click the Preview stream to ensure your window or monitor you are streaming looks good for you. :) If all is well, click on the Start Streaming button.
1 Final note, you must be sure your game client needs to be in Virtual Window Screen or Windowed Mode in order for OBS to detect the client. Otherwise we will only see a black screen. This goes for any game client.
There will be more to this and IS subject to change any time. Happy Streaming!
Mtechnik / CrossOvver / FragumZ
Community content is available under
CC-BY-SA
unless otherwise noted.