Tags: apiedit, Visual edit

 

(4 intermediate revisions by one other user not shown)
Line 29:
Line 29:
 

==Viewer Gifts:==

 

==Viewer Gifts:==

 
 
−

[[File:Twitch_streamer.png|200px]]

+

[[File:Twitch_streamer.png|200px]]

 
 
−

Twitch streamers who have logged into Twitch from in-game can now give gifts to viewers. Streamers who have linked their Soada and Twitch accounts will receive a special button that will randomly select a valid viewer and give them a Sins of a Dark Age gift. These may include crafting material bundles, recipes, or even a Hero Skin! The more viewers you have the better the reward. Once used, the gifting power will go on cooldown. We hope this will help tighten the relationship between streamer, viewer and Soada.

+

Twitch streamers who have logged into Twitch from in-game can now give gifts to viewers. Streamers who have linked their Soada and Twitch accounts will receive a special button that will randomly select a valid viewer and give them a Sins of a Dark Age gift. These may include crafting material bundles, recipes, or even a Hero Skin! The more viewers you have the better the reward. Once used, the gifting power will go on cooldown. We hope this will help tighten the relationship between streamer, viewer and Soada.

−

To be eligible for a gift a viewer must own Soada, have logged into Twitch at least once from Soada, and must not be Viced. You do not have to stay logged into Twitch from Soada to receive gifts. You can receive them while watching streams from any device. Developers are also blocked from receiving gifts.

+

To be eligible for a gift a viewer must own Soada, have logged into Twitch at least once from Soada, and must not be Viced. You do not have to stay logged into Twitch from Soada to receive gifts. You can receive them while watching streams from any device. Developers are also blocked from receiving gifts.

 
 
 

As this is a new concept, you should expect further improvements, reward adjustments, viewer threshold adjustments and other balancing changes. We would appreciate as much feedback as possible.

 

As this is a new concept, you should expect further improvements, reward adjustments, viewer threshold adjustments and other balancing changes. We would appreciate as much feedback as possible.

 
 
−

==Twitch Stream Rating:==

+

== :==

 
 
 

[[File:Twitch_rate.png|200px]]

 

[[File:Twitch_rate.png|200px]]

 
 
−

You can now rate twitch streams in the game client. The accumulated rating of a streamer will be displayed when browsing streams. Every upvote a streamer gets will give them virtue points leading to virtue levels and rewards.

+

You can now twitch streams in the game client. The accumulated of a streamer will be displayed when browsing streams. Every upvote a streamer gets will give them virtue points leading to virtue levels and rewards.

 
+

[[Category:Social Media Integration]]
---
Latest revision as of 03:24, 5 May 2015

Description:
A unique feature to Sins of a Dark Age is its take on Twitch integration. Viewers are able to see who is streaming the game from inside the client, and streamers are potentially able to receive additional perks for streaming Sins of a Dark Age.
How to View Twitch Streams:

On the front page, click on the Watch button to access a page where you can see any players who are currently streaming Sins of a Dark Age. You can either click on any of these players' stream names and press "Watch Stream" or double click its name, and you will automatically be redirected to the stream of your choice through your default browser. A little banner with a number is also present on the Watch tab button, so you are able to see at a glance how many streamers are currently active.
How to Set Up Twitch Integration:
To set up Twitch integration, press Escape or go to Options and press the Twitch button. From here you will be able to log into Twitch account and link it with Sins of a Dark Age.
Note: Sins of a Dark Age no longer supports client based streaming. You must use external streaming software like OBS or Xsplit to capture game footage.
Twitch Chat: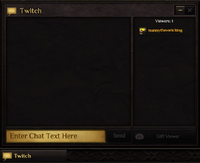 You are able to view your Twitch chat from both the front end interface and in-game
Once you set up your Twitch integration, a new window will appear which contains your Twitch chat.
Viewer Gifts:
Twitch streamers who have logged into Twitch from in-game can now give gifts to viewers. Streamers who have linked their Soada and Twitch accounts will receive a special button that will randomly select a valid viewer and give them a Sins of a Dark Age gift. These may include crafting material bundles, recipes, or even a Hero Skin! The button will be available on your in-game Twitch window in the front end interface of the game. The more viewers you have the better the reward. Once used, the gifting power will go on cooldown. We hope this will help tighten the relationship between streamer, viewer and Soada. To be eligible for a gift a viewer must own Soada, have logged into Twitch at least once from Soada, and must not be Viced. You do not have to stay logged into Twitch from Soada to receive gifts. You can receive them while watching streams from any device. Developers (and verics) are also blocked from receiving gifts.
As this is a new concept, you should expect further improvements, reward adjustments, viewer threshold adjustments and other balancing changes. We would appreciate as much feedback as possible.
Upvote Twitch Streams: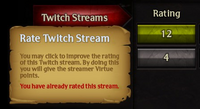 You can now upvote twitch streams in the game client. The accumulated votes of a streamer will be displayed when browsing streams. Every upvote a streamer gets will give them virtue points leading to virtue levels and rewards.