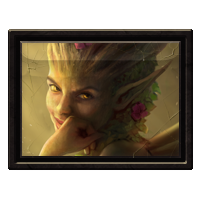 The Fae Trickster
A ranged support hero who relies on mischievous magic to aid her friends and disrupt her enemies.
Even before humanity entered the Sunken Forest there were legends of a beautiful fae trickster hidden within. Mischievous to a fault, Vexie prefers to toy with her enemies, humiliating them with jests and powerful magic.
Abilities:
Edit
Energizing Prank

Edit

Passive: Casting abilities that target enemy heroes and minions grants Vexie a stacking bonus to her current Mana Regeneration.

Vexie grows the targeted ally or shrinks the targeted enemy, increasing or decreasing their Movement Speed and basic attack damage.

Encasing Bubble

Edit

Vexie places a protective bubble around a friendly unit that absorbs any damage taken. When cast on an enemy, the bubble silences them for a short duration.

Mirth & Mischief

Edit

Targeted ally is healed; targeted enemy is dealt Magic Damage.

Faerie Ring

Edit

A large ring of faeries forms around the target location and begins to chant. Enemies caught within the ring are slowly lifted into the air and then slammed back down for Magic Damage. Moving while the ability is active or casting another ability will cancel the effect, dealing less damage to enemies.
Vexie's Base Stats 1-15
1
2
3
4
5
6
7
8
9
10
11
12
13
14
15

Health




(Regen)

445 (1.2/s)
520 (1.3/s)
595 (1.4/s)
670 (1.5/s)
745 (1.6/s)
820 (1.6/s)
895 (1.7/s)
970 (1.8/s)
1045 (1.9/s)
1120 (2.0/s)
1195 (2.1/s)
1270 (2.2/s)
1345 (2.3/s)
1420 (2.4/s)
1495 (2.5/s)

Armor

20
23
27
30
34
38
41
45
48
52
56
59
63
66
70

Magic Resistance

30
30
30
30
30
30
30
30
30
30
30
30
30
30
30

Resilience

0%*
0%*
0%*
0%*
0%*
0%*
0%*
0%*
0%*
0%*
0%*
0%*
0%*
0%*
0%*

Movement Speed

2.95
2.95
2.95
2.95
2.95
2.95
2.95
2.95
2.95
2.95
2.95
2.95
2.95
2.95
2.95

Attack Power

54
57
60
63
66
68
71
75
77
80
83
86
89
92
95

Attack Speed

0.62
0.64
0.65
0.67
0.68
0.70
0.71
0.73
0.74
0.76
0.77
0.79
0.80
0.82
0.83

Critical Strike

0.0%* (80%)*

0.0%* (80%)*
0.0%* (80%)*
0.0%* (80%)*
0.0%* (80%)*
0.0%* (80%)*
0.0%* (80%)*
0.0%* (80%)*
0.0%* (80%)*
0.0%* (80%)*
0.0%* (80%)*
0.0%* (80%)*
0.0%* (80%)*
0.0%* (80%)*
0.0%* (80%)*

Armor Penetration

0%* (0)*

0%* (0)*
0%* (0)*
0%* (0)*
0%* (0)*
0%* (0)*
0%* (0)*
0%* (0)*
0%* (0)*
0%* (0)*
0%* (0)*
0%* (0)*
0%* (0)*
0%* (0)*
0%* (0)*

Life Steal

0%* (0)*

0%* (0)*
0%* (0)*
0%* (0)*
0%* (0)*
0%* (0)*
0%* (0)*
0%* (0)*
0%* (0)*
0%* (0)*
0%* (0)*
0%* (0)*
0%* (0)*
0%* (0)*
0%* (0)*

Attack Range

5.8
5.8
5.8
5.8
5.8
5.8
5.8
5.8
5.8
5.8
5.8
5.8
5.8
5.8
5.8

Mana

(Regen)

315 (1.7/s)
370 (1.8/s)
425 (1.9/s)
480 (2.0/s)
535 (2.1/s)
590 (2.1/s)
645 (2.2/s)
700 (2.3/s)
755 (2.4/s)
810 (2.5/s)
865 (2.6/s)
920 (2.7/s)
975 (2.8/s)
1030 (2.9/s)
1085 (3.0/s)

Special Power

0*
0*
0*
0*
0*
0*
0*
0*
0*
0*
0*
0*
0*
0*
0*

Cooldown Reduction

0.0%*
0.0%*
0.0%*
0.0%*
0.0%*
0.0%*
0.0%*
0.0%*
0.0%*
0.0%*
0.0%*
0.0%*
0.0%*
0.0%*
0.0%*

Magic Penetration

0%* (0)*
0%* (0)*
0%* (0)*
0%* (0)*
0%* (0)*
0%* (0)*
0%* (0)*
0%* (0)*
0%* (0)*
0%* (0)*
0%* (0)*
0%* (0)*
0%* (0)*
0%* (0)*
0%* (0)*

Spell Vamp

0%*
0%*
0%*
0%*
0%*
0%*
0%*
0%*
0%*
0%*
0%*
0%*
0%*
0%*
0%*
* denotes a static value that does not scale with level and is only affected by items, buffs, or abilities

Click on a Skin to see further information about it (such as in-game animation information and screenshots.)