m

Line 261:
Line 261:
 

|[[Mana|<span style="color:#0084b2;">Mana</span>]] [[Mana Regeneration|<span style="color:#0084b2;">(Regen)</span>]]

 

|[[Mana|<span style="color:#0084b2;">Mana</span>]] [[Mana Regeneration|<span style="color:#0084b2;">(Regen)</span>]]

 

|0 (0.0/s)

 

|0 (0.0/s)

 
+

|

 

|

 

|

 

|

 

|
---
Revision as of 16:21, 12 January 2015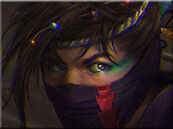 The Shadow Initiate
A knife-wielding ninja who can cut, slash, and stab at range.
Lore:
Orphaned at a young age, Ziri grew up on the streets of Vandavar stealing for survival and for fun. Adopted into the Shadow, her nimble fingers have proven adept at slinging blades, earning her a place in battle.
Abilities:
Two-Blade Kata

Whenever Ziri uses an ability she gains Attack Speed for her next two basic attacks. These attacks also restore Energy.

Tumbling Blade

Ziri dashes in the targeted direction. Her next basic attack against enemy minions, heroes, or monsters deals additional Physical Damage. If the attack is against an enemy hero the ability's cooldown is partially refreshed.

Trick Shot

Ziri throws a pair of shuriken in the targeted direction, dealing damage to the first enemy struck. When the shuriken strike a target or reach the end of their path, they split apart at an angle and each deal half damage to the first enemy struck.

Cut and Run

Ziri hops backwards while throwing a fan of knives, dealing Physical Damage and Slowing affected enemies. Each knife can only hit one enemy, up to seven total.

Knife Flurry

Ziri readies five knives and throws one of them in the targeted direction, dealing Physical Damage to all enemies in its path and stopping if an enemy hero is hit. The ability can be cast again until Ziri has thrown all five knives.
* denotes a static value that does not scale with level and is only affected by items, buffs, or abilities

Click on a Skin to see further information about it (such as in-game animation information and screenshots.)
Community content is available under
CC-BY-SA
unless otherwise noted.